Bulgarian President Rumen Radev taking part in a Bucharest Format (B9) Summit here on Friday. At the international forum, the leaders of Bulgaria, the Czech Republic, Estonia, Hungary, Latvia, Lithuania, Poland, Romania and Slovakia are exchanging views and are coordinating their positions on matters on NATO agenda, ahead of the Alliance's Summit due in Brussels in July, the President's Press Secretariat said. "Bulgaria backs NATO's efforts to build modern defence capacities, and the modernization of the Bulgarian Armed Forces is part of this process," Radev said at the B9 Summit in Warsaw.
"Meeting the security challenges that we confront is beyond the limited capacities of the separate countries and requires a joint response," the head of State stressed in his statement at the forum.
The heads of State and government confirmed the common commitment from Wales to a gradual increase of defence budget resources to 2 per cent of GDP for development of national and joint defence capabilities.
As the President put it, NATO should keep its "open door policy", and Bulgaria will continue to support the aspirants to full membership in fulfilling the eligibility requirements. Radev singed out strengthening stability, continued reforms, building good-neighbourly relations and promoting the Western Balkans' Euro-Atlantic perspective as key priorities for Bulgaria. "Without guaranteed security, we cannot possibly achieve sustained stability in the Balkans," the speaker emphasized. He confirmed Bulgaria's support, within the framework of NATO's policy, to assist the countries engaged in the fight against international terrorism and countering the Islamic State in the Middle East in building their defence capacity.
"In its relations with Russia, the Alliance must be guided by realism and pragmatism, in line with NATO's approach to strengthening defence capabilities while remaining open to dialogue," the head of State said further on. At the discussion, the President stressed the need to assess the changed conditions, to seek opportunities for easing tensions and normalizing relations while avoiding an aggressive tone. In his words, this will help keep communication channels open and pursue important national economic interests, the way this is done by the leading NATO and EU Member States.
Later in the day, President Radev will attend observances in Warsaw of the 100th anniversary of the restoration of Poland's regained independence.
Bulgaria's parliament approved a plan to spend about $2 billion (1.6 billion euros) to purchase 150 combat vehicles and 16 new or used fighter jets to replace its aging Soviet-designed MiG-29s.
Bulgaria's fleet of 15 Soviet aircraft have raised safety concerns among the country's military pilots, who refused to fly in a training operation last October in a bid to speed up the new acquisitions. The air force has said just seven of the MiGs are in good flying order.
Bulgaria joined NATO in 2004, in order to get consensus on buy of warplanes to replace the MiGs has perplexed successive governments for more than a decade.
In matter of defense equipment, NATO has inspired its eastern members to develop or buy new equipment from Western alliance members that is compatible with their older Soviet-era systems.
European NATO members that were once Soviet satellites still rely on Russian-made military jets. Two-thirds of Poland's military equipment dates from the pre-1991 Soviet era, for example.
Government ,under the plan approved by 151 to 7 in the 240-seat parliament, Sofia would acquire the jets in two stages to improve its compliance with NATO standards.
Billing, $1 billion to for the cost of the first eight aircraft, as well as team training and initial logistics support.
Bulgarian, Balkan country meditating to spend about $1 billion on armored vehicles for three infantry battalion groups, including equipment and training.
Sofia has said it will call for bids to replace its MiGs with aircraft from the United States, Portugal, Italy, France, Sweden, and Israel.
Armored vehicles, the Western outfits lists , French state-owned group Nexter Systems, Finland's Patria, Germany's Rheinmetall Defense AG , U.S.-based Textron, and the Swiss firm Mowag have expressed interest in supplying armored vehicles, Bulgarian officials said.
The Confederation of All India Traders (CAIT) has expressed satisfaction over the decision of the Supreme Court Bench for not interfering in sealing matter of certain areas despite strong pleas of the Monitoring Committee to direct MCD to conduct sealing in Rajouri Garden and other areas
CAIT Secretary General Mr. Praveen Khandelwal while welcoming the decision said that since the matter of notifying 351 Roads as commercial or mix land use street is pending before the Supreme Court and matter being sub-juice, insistence of the Monitoring Committee for repeatedly directing the MCD to conduct sealing operations on these roads is a case of exceeding the jurisdiction of the Monitoring Committee.
He further said that it has been seen that Monitoring Committee is more interested in sealing comfortably running business establishments established since decades on one pretext or the other without serving any notice or giving opportunity of hearing which is against the principle of natural justice. We are sure that Supreme Court has never intended like this.
Mr. Khandelwal hoped that Monitoring Committee will now be justified in its action and instead of adopting a coercive approach, it will seek cooperation from the trading community in larger interest of Delhi and its economy
The record wrote-off of bank loans is linked not just to Modis and Choksis who escaped India easily and roam freely but also to opaque means of election funding introduced by Modi govt, big spending on his PR campaigns.
he further tweets, Modi govt writes off bank loans worth ₹ 1.44 lakh crore, yes ₹ 1.44 lakh crore, in just one year. None of those will be for the farmers or the salaried workers, they would all be for friendly corporates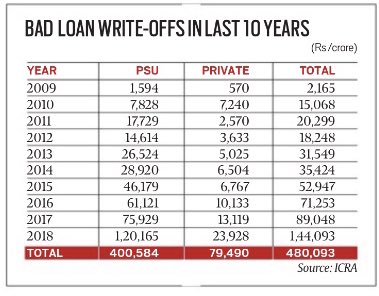 LR Group is investing NIS 50 million in building and operating three shared workspaces for biotechnology and medical startups near three hospitals in Israel – Hadassah Medical Centre Ein Kerem in Jerusalem, Rabin Medical Centre (Beilinson Hospital) in Petah Tikva and Rambam Health Care Campus in Haifa. The new chain will be called LR Biohouse and offers a unique combination of technological incubator, shared workspace and synergy with the hospital.
LR Group operates worldwide in developing, financing, building, and managing medium and large scale projects in high growth economies including agriculture, water, energy and power, telecom, health, and construction.
The first of the three shared workspaces has been built in cooperation with Hadassah Medical Centre Ein Kerem and the Jerusalem Development Authority's BioJerusalem venture and will be launched next week on June 19.
The Jerusalem LR Biohouse will have space for 40-50 early stage and more mature biotech and medical startups as well as a startup accelerator, which will be operated by Hadassah.
The startups in LR Biohouse will enjoy shared equipment and facilities and data processing systems and most importantly access to the hospital's infrastructure including laboratories, and amenities for animal and clinical trials including access to patients for the trials. LR Biohouse will also help in introducing potential investors, partners and customers.