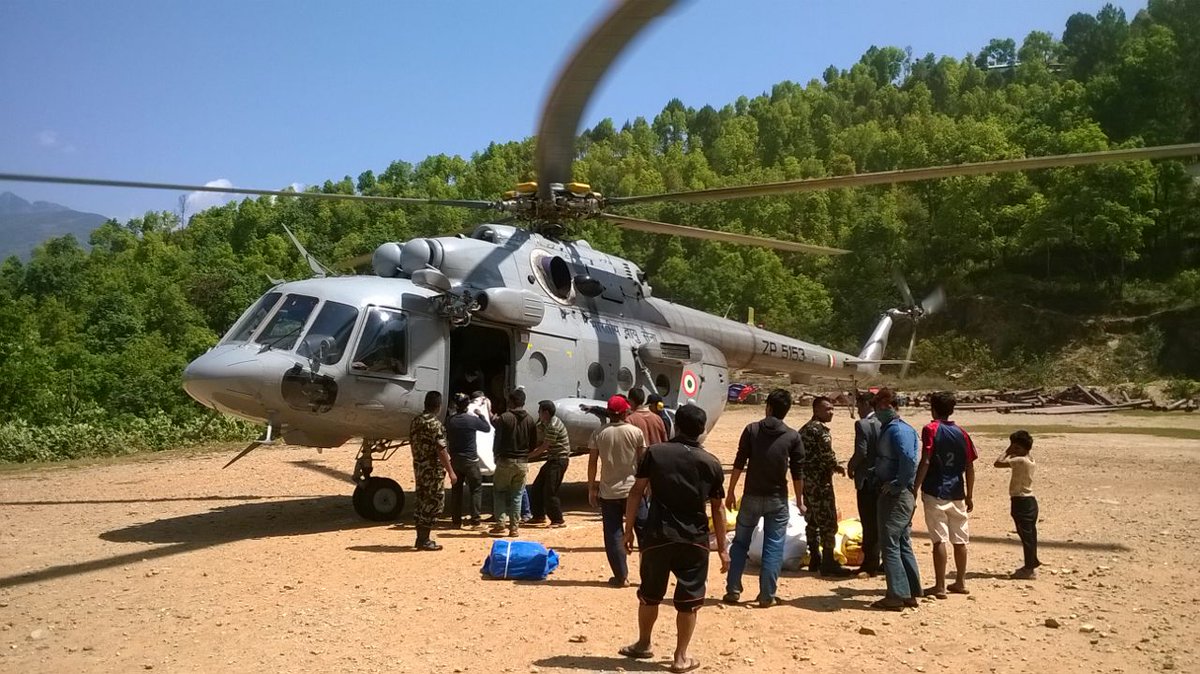 Baby boy Sonit Awal was rescued 22 hours after quake is commendable job. Indian army did stupendous task with its image touching class of international repute in distribution of foods for aid to far flung areas the Army Aviation's ALH Dhruv helicopter pressed into action Gorkha, IAF's MI-17 V5 arrives at Langtang with relief material.
"The earthquake has caused unimaginable destruction," said Rownak Khan, UNICEF Deputy Representative in Nepal. "Hospitals are overflowing, water is scarce, bodies are still buried under the rubble and people are still sleeping in the open. This is a perfect breeding ground for diseases."
The April 25 earthquake flattened more than 130,000 homes and left 3 million people in need of food assistance. Some 24,000 people are currently staying in 13 camps in Kathmandu. In a country where just over 40 per cent of children are stunted, fears for children's nutrition are rising. At least 15,000 children with severe acute malnutrition require therapeutic feeding. There is also an urgent need for children in the 12 most affected districts to get back to their normal routine by setting up child-friendly spaces, opening schools and providing access to basic services, such as health and water.
As soon as the earthquake struck one week ago, UNICEF used its pre-positioned relief supplies to mount an emergency response and was able to provide aid, including tents to serve as emergency clinics at hospitals, tarpaulin for shelter, water trucking services in informal camps, water purification tablets and hygiene kits.
UNICEF is broadening its response so that children in the most severely affected communities, including those in hard-to-reach areas beyond Kathmandu, are provided with lifesaving services and supplies.
Total loss of life may ouch nearly 20K as the list of people untraceable and those critical injured likely to come after 60 days of this natural calamity.EU Envoy says 1,000 Europeans still missing. But as per official statistics, "The death toll has reached 6,624," said the home ministry's national disaster management division. A further 14,025 people were injured in the quake, it added.
A fresh 4.5-magnitude aftershock Saturday morning triggered panic among the people, who scrambled for open spaces.
The 7.9-magnitude quake last week left a trail of devastation and suffering, with people spending the cold night in the open because of fears of fresh quake.
Nepal's remote mountainous areas have suffered "almost total devastation" from the powerful quake, aid agencies have warned, even as relief slowly began to reach far-flung regions amid fresh aftershocks that kept people on edge.
International humanitarian bodies have called for greater urgency in relief efforts.
"One of our teams that returned from Chautara in Sindupalchowk district reported that 90 percent of the homes are destroyed. The hospital has collapsed, and people are digging through the rubble with their hands in the hope that they might find family members who are still alive," said Jagan Chapagain, Director of Asia Pacific with the IFRC.
"We can expect the situation to be the same if not worse in many other places where aid has not yet been delivered," Chapagain said.
There are estimates that up to 40,000 homes in Sindupalchowk alone have been destroyed, the International Federation of Red Cross said in a statement.
Also, over 1,000 EU citizens are still unaccounted for in Himalayan Nepal, diplomats said.
The Europeans had mostly been climbing in the avalanche-hit Mt Everest region and trekking in the remote Langtang range near the epicentre of the quake.
Foreign Secretary S Jaishankar and National Security Advisor Ajit Doval reached Kathmandu on Friday to oversee the relief and rescue operations launched under 'Operation Maitri' to aid Nepal.
The National Security Adviser Ajit Doval and the Foreign Secretary S Jaishankar called on Nepalese Prime Minister Sushil Koirala today in Kathmandu.
They took stock of the relief and rescue operations and assured the Nepalese leadership of assisting it with total dedication and commitment. Ajit Doval said India stands steadfastly with Nepal, and would give them all the help possible.They visited the earthquake affected areas and also conducted an aerial survey.
Ajit Doval praised the rescue operations and directed all the Indian agencies to carry the relief efforts in full swing in the quake ravaged nation.Ajit Doval has said that Indian agencies are working to restore communication lines in Kathmandu and far flung areas in Nepal.
Meanwhile, the death has crossed over 6000 in Nepal with rescuers still on war footing to evacuate trapped people.
Personnel of the Indian Army, NDRF and the Indian Air Force are reaching out to affected people in far flung areas.
May 1
Petrol price has been hiked by Rs 3.96 a litre and diesel by Rs 2.37 per litre including the Value added Tax. The new rate came into effect from last midnight.
State-owned fuel retailers Indian Oil Corporation, Bharat Petroleum Corporation and Hindustan Petroleum Corp have revised petrol and diesel prices on average imported cost and rupee-dollar exchange rate in the previous fortnight and in view of sharp increase in the international prices of the two products.
Now, petrol will cost Rs 63.16 per litre in Delhi, Rs 70.44 in Kolkata, Rs 70.84 in Mumbai and Rs 66.08 in Chennai. For diesel, the consumer will have to pay Rs 49.57 for a litre in Delhi, Rs 54.17 in Kolkata, Rs 56.87 in Mumbai and Rs 52.76 in Chennai.