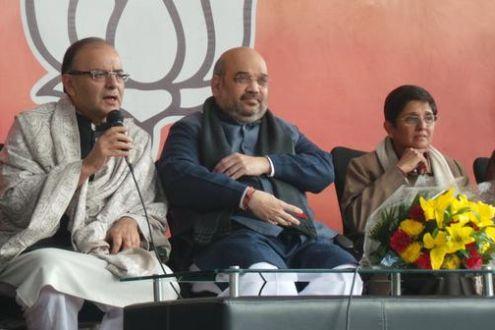 Former IPS officer Kiran Bedi today joined BJP and will contest upcoming Delhi Assembly polls. She was inducted in the party in the presence of BJP president Amit Shah, Union Ministers Arun Jaitley and Dr. Harshvardhan in New Delhi today. Ms Bedi had been associated with Aam Admi Party convenor Arvind Kejriwal during the anti-corruption movement. Welcoming her, BJP chief said, her induction will strengthen the party. When asked whether she will be BJP's Chief Ministerial candidate in Delhi, Amit Shah said party's Parliamentary Board will take a call on it.
Speaking on the occasion, Ms. Bedi said she is inspired by Prime Minister Narendra Modi's leadership which has revived the hope of the people in the country. She said she will work for stable and corruption-free government in Delhi. Ms. Bedi said, she has 40 years of administrative experience and wants to dedicate it to Delhi and the nation.
On the occasion, Arun Jaitley said, the BJP has a tradition of inducting experienced and honest people in the party. AIR correspondent reports that before joining, Ms. Bedi also met Prime Minister Narendra Modi. Political observers say though BJP has decided not to declare its Chief Ministerial candidate in Delhi but Ms. Bedi's entry in the party has given a prominent face to counter Arvind Kejriwal.
Though no announcement has been made on the seat that Bedi will contest, rumour mills are abuzz that she may be pitted against Aam Aadmi Party's Arvind Kejriwal as BJP's candidate for the top job.
Aam Aadmi Party convenor Arvind Kejriwal has expressed happiness over Ms Bedi joining politics. In a tweet, Mr Kejriwal said he always tried to convince her that she should join politics.