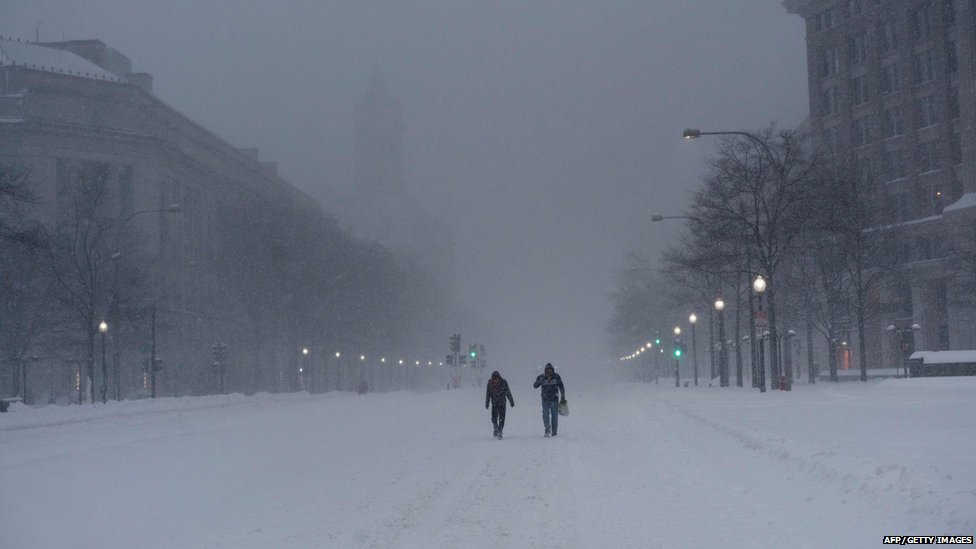 U.S. East Coast hit "Jonas" the Blizzard storm
Jonas the Blizzard snowy winter storm devastated daily life of the eastern region of the United States, forcing more cities along the East Coast to be shut down Saturday, leaving at least 12 people dead and stranding thousands on the roads and at airports. New York Governor Andrew Cuomo announced a travel ban in New York City Saturday. According to the ban, all non-emergency vehicles should be off the roads after 2:30 p.m. Eastern Time. New York City Mayor Bill de Blasio said at a press conference that the police would enforce the ban. He also urged Broadway theaters and restaurants to close immediately
According to weather reports , Winter Storm Jonas was moving towards Northeast Saturday, with dangerous blizzard or near-blizzard conditions ongoing across the region. Record coastal flooding and winds over 112 kilometers per hour were predicted in some coastal areas.
Blizzard warnings remained in effect Saturday for about 38 million people in northern Virginia, Washington, D.C., Baltimore, Philadelphia and New York City.
So far, governors of 11 U.S. states had declared a state of emergency as heavy snowfall, gale-force winds and coastal flooding showed no signs of dying down.
The storm continued to move past Washington, D.C.and across Maryland and Delaware, and was headed for New York, Connecticut, Rhode Island and southeast Massachusetts by late Saturday, according to the National Weather Service.
Shortly after the midday Saturday, New York Governor Andrew Cuomo announced a travel ban in New York City. According to the ban, all non-emergency vehicles should be off the roads after 2:30 p.m. Eastern Time.
New York City Mayor Bill de Blasio said at a press conference that the police would enforce the ban. He also urged Broadway theaters and restaurants to close immediately.
"It's time for businesses to shut down and get their employees home right away," said De Blasio.
Calling the storm "one of the worst snowstorms in New York City history," De Blasio said the storm, not expected to stop until Sunday, could dump up to 30 inches (76cm) of snow in the city.
Meanwhile, De Blasio left open the possibility of shutting down the subway service, calling a possible suspension "conceivable." However, he said that it did not appear likely at the moment.
In Washington, D.C., the city's metro system was shut down from Friday night through Sunday.
Across the U.S. East Coast region, thousands of motorists were stranded on slippery roads late Friday night and Saturday. As the storm continued to rage, more than 85 million people in at least 20 states were to be affected. Media agencies