Hagel meets Arun Jaitley , PM Modi
8
08
2014
Delhi: US Defence Secretary Chuck Hagel meets Arun Jaitley.
US Defence Secretary Chuck Hagel meets Prime Minister Narendra Modi too.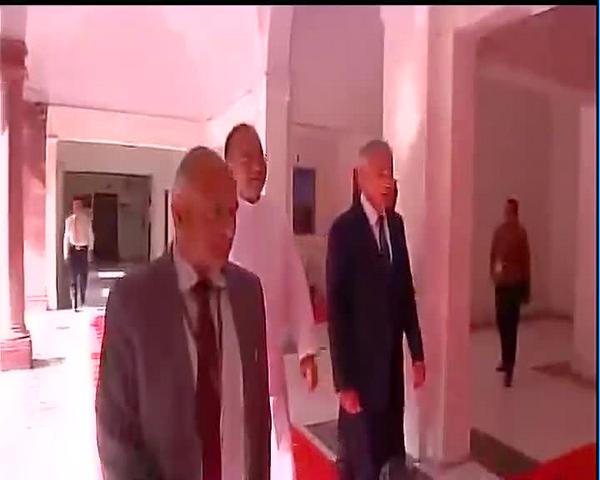 Prime Minister Narendra Modi has expressed concern over the deteriorating situation in Iraq and its effects on the West Asian region where India has important stakes.
In his meeting with visiting US Defence Secretary Chuck Hagel today, Mr Modi noted that an early completion of the election process in Afghanistan and smooth transition of power is essential for peace, stability, democracy and development in that country.
The US Defence Secretary conveyed to the Prime Minister the steps announced by President Obama to deal with Iraq situation. The two leaders also discussed their shared interests in peace and stability in Asia Pacific region.
A release issued by the Prime Minister's Office said, Mr Modi underlined the importance of defence relations in the overall strategic partnership between the two countries.
He indicated his desire to see further progress in defence relations, including defence manufacturing, technology transfer, exercises and higher studies.
Mr Modi reiterated that he is looking forward to his visit to the United States not just as an occasion to think in terms of what India and US can do for each other, but also as an opportunity to see how the world's oldest and the largest democracies can build a partnership for peace, stability and prosperity in the world.
US Defence Secretary Chuck Hagel began his official engagements with India's top leadership by meeting External Affairs Minister Sushma Swaraj in New Delhi this morning. He will meet his counterpart Arun Jaitley later today. Hagel will also have meetings with National Security Advisor Ajit Doval, Air Chief Arup Raha and call on Prime Minister Narendra Modi. He arrived in New Delhi yesterday.
This is his first visit to India as US Defence Secretary and follows a similar stop in the country last week by Secretary of State John Kerry and Commerce Secretary Penny Pritzker.
Strenthening military ties, the issue of intelligence sharing and discussions on deals for procuring 22 Apache attack helicopters,15 Chinook heavy-lift choppers along with four P-8I anti-submarine warfare aircraft are expected to come up for discussion at the meetings.
Speaking ahead of his maiden visit to the country, Hagel described India as one of the most significant countries in the world. He said the world's largest democracy will help shape a new world order that is emerging in this century.