Protest in London against Turkish offensive in Afrin. US and Turkey argued over the status and future of Syria's Kurds. Ankara has repeatedly slammed Washington for delivering military supplies to Kurds in Syria.
US told Ankara it will not deliver any more weapons to the Syrian Kurdish PYD/YPG fighters, Turkish media report. The news comes as the Turkish operation 'Olive Branch' in northern Syria has entered its eighth day. On Saturday Turkish Foreign Minister Mevlut Cavusoglu said that Washington should immediately withdraw from northern Syria's Manbij region, located some 100 km from Afrin. Speaking to reporters, the top official said that the US should take steps to end its support of the Syrian Kurdish YPG militia.
Turkish Presidential Spokesman Ibrahim Kalin and US National Security Adviser H.R. McMaster held a phone call on Friday evening, Anadolu news agency said. McMaster confirmed that Washington would no longer provide weapons to fighters of the Kurdish People's Protection units (YPG) and the Democratic Union Party (PYD).
President Recep Tayyip Erdogan today threatened to expand Turkey's offensive in Syria against a Kurdish militia, despite rising concern and calls for restraint from the US and other Western allies.
In the seventh day of the operation against the Syrian
Kurdish People's Protection Units (YPG) militia, Erdogan vowed
to "clean up" the Syrian city of Manbij.
The United States has raised concerns over the deadly offensive, and analysts say direct military conflict between the two NATO powers is possible since the US has a military presence in Manbij. While the YPG is still working closely with Washington against the Islamic State extremist group in Syria, Ankara views the YPG as a terror organisation allied to the outlawed Kurdistan Workers' Party (PKK) inside Turkey.
The PKK is blacklisted by Ankara and its Western allies as a terror outfit.
UN Secretary-General Antonio Guterres said the global development would not have success if Africa fails to take advantage of its youth dividend.
"The international community will not find peace and security if Africa is not able to manage not only its conflicts, but above all, to make prevention and find a solution to its conflicts," he said.
Guterres also praised African countries for their handling of migration issues, saying that "I have always seen African countries open their doors to refugees and migrants. This is a lesson that other parts of the world should understand."
Affirming UN's commitment to support Africa, Guterres said the partnership between the UN and the AU is "the most important partnership."
"Cooperation with the African Union is really a fundamental strategic element for the United Nations to be able to fulfill its mandate," he said.
Peace and security, development, and human rights are said to be some of the common areas of interest for the UN and the AU to strengthen their partnership.
The two organizations signed an agreement on Saturday to strengthen development in Africa, it was noted. According to Moussa Faki Mahamat, AU Commission Chairperson, AU's flagship Agenda 2063 and the global 2030 Agenda for Sustainable Development (SDG) can go hand-in-hand towards the continent's development.
The targets of the SDG mainly focus the economic, social and environmental aspects of development.
Sagar Media Inc: MHA Shri Rajnath Singh thanks Authors and belessed them and appreciated the book "On the Trail of the Black". He said have not read complete book but gone through some pages, this book deal corruption in many sectors. Corruption mitigate development, income disparity cause civil
unrest. Digital,
Transparency, procedures policy are the keys to mitigate corruption in prevailing system.
MHA Sri Rajnath Singh said, Our PM is more concerned about corruption which dilute corruption.SIT formed in first cabinet meet, health sector need corruption free.. This is an important step of government reduced generic medicines and paid attention to other vaccinations available for infants.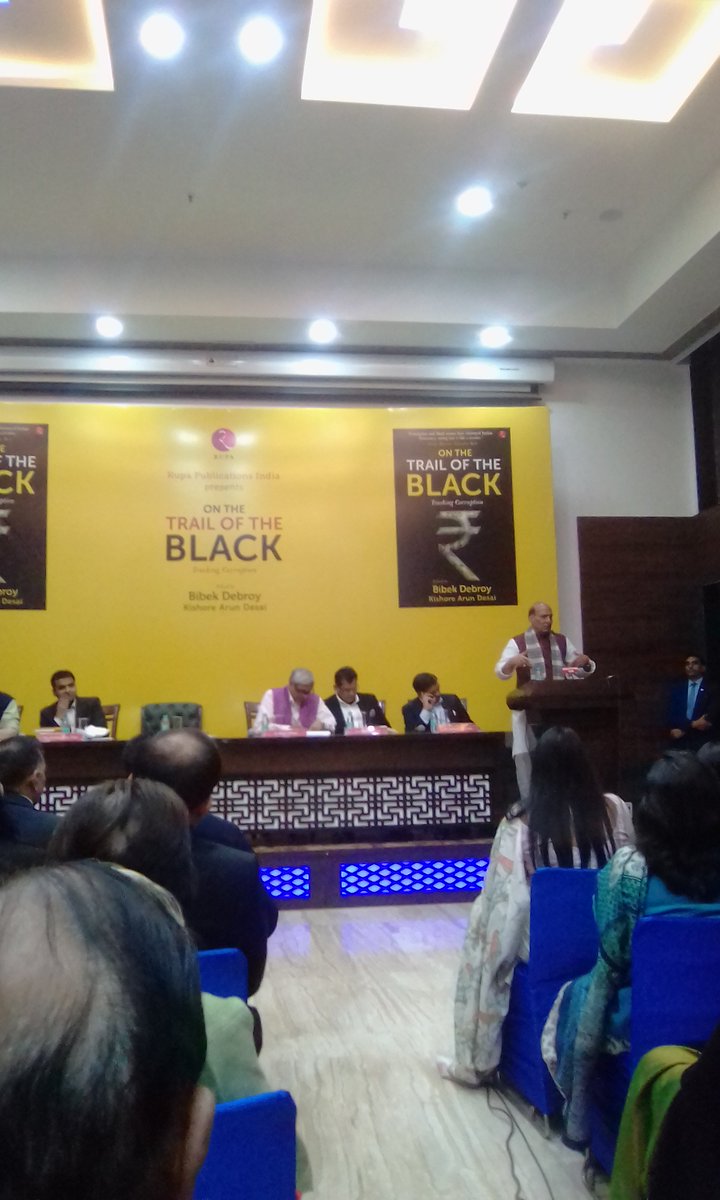 Government is making an efforts in the Tax collection that too is imp to reduce corruption .We all need fight corruption. Minister further said Education can bring change, we need in society ideal personalities and with procedure reforms like DBT MENREGA is made Easy with Aadhar . Society need awareness. Niti Ayog Policy makers we approve. Inspiration personality need to be galvanized. There must be more respect for value based actions rather than money making acts.
Dr Advani Mahajan said, Don't agree that we do not need of Lokpal, crypto currency surge in Demonetization, conflict of interest ,FSSAI Nexus MNC , 350 consultant paid by MNC shunted out, corruption need to eye nodal point of Nexus, over invoices and under invoice government fails all cases as the system lack experts in this field.
Mr Amitabh address In government tenure of forty years I have better experience many laws knots together making loop holes and destroy the systems. From couple of years digital online, make easy one page to three page law process, Institutions need strength Medical commission medical council, UGC need restructure, tech need to be used. DBT Aadhar benefiring tens of cr beneficiaries thus break bureaucratic nexus.
CEO Niti Ayog said Government procurement where corruption dwell, E procurement GEM is best and bid and auction with transparency makes the scenario better for economy. In new institution India need simple easy procedures, intelligence and other Alternative intelligence to take over.
Director NMML, Mr Shakti Sinha briefing on book Launch," On the Trail of the Black".
Many things need to be done. internal deptt inquiry, balancing act of CVC, CBI, other institution, law process more important to solve laws etc. No one wants to break law with bold initiatives a step to mitigate corruption.
Siddikur Rahman reigns supreme on home turf with four-shot victory at City Bank American Express Dhaka Open.
Dhaka, January 27, 2018:
Bangladesh's
Md Siddikur Rahman lived up to the expectations of the home crowd as he recorded a four-shot victory at the inaugural City Bank American Express Dhaka Open, a US$ 60,000 event, played at his home course, the Kurmitola Golf Club. Siddikur fired a final round of two-under-70 to end the week with a total of 14-under-274.
Sweden's Malcolm Kokocinski (67) finished a distant second at 10-under-278 at the event tri-sanctioned by the Asian Development Tour (ADT), Professional Golf Tour of India (PGTI) and Bangladesh Professional Golfers Association (BPGA).
Siddikur Rahman (68-66-70-70), the overnight leader by two shots, put up a consistent display on the final day making four birdies and two bogeys. The 33-year-old was in no mood to yield an inch to his rivals from the very start as was evident from his three birdies over the first 10 holes.
Rahman, who was in the lead since round two, did suffer a couple of setbacks with bogeys on the 11
th
and 13
th
but was solid through the final stretch thanks to a birdie and four pars on the last five holes that saw him sail home with a comfortable margin.
It was Siddikur's fourth international win and second triumph on the ADT. Siddikur had also won his first event on the ADT, the 2011 Grameenphone Bangladesh Masters, at the same venue, the Kurmitola Golf Club.
Siddikur, a two-time Asian Tour winner, said, "I was really hungry for a win this week. I'm delighted that I could live up to the expectations of the fans here in Bangladesh.
"My putting form was back today as I sank some long putts including a 15-footer on the ninth and a 35-footer on the 10
th
. Those two putts really lifted my confidence. I had a great week with the putter and made a lot of long putts except for the third round.
"This win is a huge boost for me ahead of the long Asian Tour season. I'll look to build on the gains from this victory."
Malcolm Kokocinski (70-70-71-67) posted the day's best score of five-under-67 to rise from overnight tied third to second place. The Swede registered six birdies and a bogey on Saturday. He enjoyed a run of four straight birdies from the 11
th
to the 14
th
.
India's Shankar Das (73) finished third at nine-under-279 while Bangladesh's Akbar Hossain (70) was a further two strokes back in fourth.
India's Shamim Khan took fifth place at six-under-282.
4th National Conference on Physical Education & Sports Sciences
Respected Sir/Mdm, greetings from PEFI
Happy to share that Physical Education Foundation of India (Under the Aegis of Ministry of Youth Affairs & Sports) is organizing 4th National Conference on Physical Education & Sports (NPESS2018) in New Delhi from 09-10 February 2018.
Online Registration is available on:
Last date of Online Registration is 31st January 2018.
For More Information, Please Contact:
Mr. Tarun Kumar – 991014754

5
Physical Education Foundation of India (PEFI)
NEW DELHI, Jan 26 Excluding the proud Sikh Regiment from the annual Jan 26 parade for a second year in a row isn't a coincidence but a calculated move to undermine the Sikh sacrifices in the freedom movement and on the battlefield in independent India, SADD chief Paramjit Singh Sarna has observed.
Never before the present BJP government, whom th
e Badals extend unconditional support, has the Sikh-regiment been ever sidelined in India's display of its might tothe world outside."The Sikh soldiers marching on the Rajpath have been a proud symbol of bravery and sacri'ce. But not anylonger under the present dispensation," said S. Sarna.The Cellular Jail in the Andamans stands as ahistoric reminder of the scale of the Sikh role in freedom movement. "Most of the prisoners condemned to Kala Pani by the British were Sikhs.
Their names are still written all over the plaques inside the Cellular Jail," the SADD chief noted. "But it's insulting that the Sikh Regiment has now been pulled out of the Republic Day parade when the Sikh soldiers from across the three services have an unmatched record of bravery in India's wars with the neighbors and also in dangerous troubled zones."
S. Sarna wondered why the Badals, especially union minister Harsimrat Badal, has not been able to ensure the Sikh Regiment was given its due place in the parade.
US President Donald Trump's administration has unveiled a sweeping new immigration plan to Congress that offers 1.8 million young unauthorized immigrants known as "Dreamers" a path to citizenship over 10-12 years.
In a comprehensive reform that will be formally presented next week, Trump also asked Congress Thursday to eliminate the popular "green card lottery" program and severely restrict family immigration, steps analysts say could cut in half the more than one million foreign-born people moving to the country annually.
And in the name of halting illegal immigration, he has also demanded Congress budget $25 billion for a "trust fund" for constructing a wall on the US-Mexico border — a major plank of Trump's White House campaign.
"The Department of Homeland Security must have the tools to deter illegal immigrants; the ability to remove individuals who illegally enter the United States, and the vital authorities necessary to protect national security," a senior White House official told journalists.
The White House's offer of a path to citizenship for the Dreamers was much wider than expected. Earlier it had suggested it was only open to granting citizenship to the 690,000 young immigrants registered under the Deferred Action for Childhood Arrivals (DACA) program.
But in exchange, Trump was asking Congress to make future legal immigration more difficult — and to shore up the Homeland Security Department's toolbox and funding to crack down on the overall population of unauthorized immigrants, estimated at some 11 million, including Dreamers.
That could make the plan difficult to get past Democrats, no matter how strong they want the Dreamers reform.
"There is no public policy justification for cutting legal immigration in half. None," said Democratic Senator Brian Schatz on Twitter.The plan represents a sharp shift in US immigration policies.
Trump promised during his 2016 presidential campaign a tough crackdown on illegal immigration but has extended this to narrowing the doors for legal immigrants and refugees.
The end of the lottery system — which was introduced in 1990 to diversify the origins of new immigrants — was expected and has support from some Democrats. Trump has argued the program has allowed people into the country who have supported Islamic extremists.
"This program is riddled with fraud and abuse and does not serve the national interest," the White House said in a summary Thursday.
Trump however at least momentarily undermined his push against the lottery when, in immigration bill negotiations with lawmakers in early January, he complained about immigrants from what he reportedly dubbed "shithole" nations like Haiti, El Salvador and countries in Africa, sparking widespread outrage.
Trump has also argued for ending "chain" migration, the practice of allowing the extended family members of people who already have US citizenship to immigrate.
Thursday's proposal said that to "protect the nuclear family," family immigration would be only permitted for spouses and minor children.
The White House plan immediately provoked the ire of Democrats, who made clear they would likely fight to water down the changes in negotiations in coming weeks.
Senator Bill Nelson, a Democrat from Florida, said a bill calling for a big crackdown on undocumented immigrants and new restrictions on legal entry for relatives might be a hard sell.
"If you start putting in all of these highly charged toxic issues, it's just not going to work," said Nelson.
Pro-immigration groups said the proposal would reduce overall immigration by half and was aimed at bringing more Caucasians into the country.
"$25 billion as ransom for Dreamers with cuts to legal immigration and increases to deportations doesn't pass the laugh test," said Democratic Representative Luis Gutierrez.
"The White House released a hateful, xenophobic immigration proposal that would slash legal immigration to levels not seen since the racial quotas of the 1920s," said Lorella Praeli, director of immigration policy at the American Civil Liberties Union.
But Republican leaders in Congress voiced solid support: Senate majority leader Mitch McConnell said the White House proposal was a "framework" for crafting a final immigration deal.
Republican Senator Tom Cotton, a hardline conservative, called Trump's framework "generous and humane, while also being responsible."
However, some conservatives were angered by the sweeping offer to Dreamers, which they say constitutes an amnesty that rewards law-breakers and sets a bad precedent for other undocumented immigrants.
"Any proposal that expands the amnesty-eligible population risks opening Pandora's box," said Michael Needham, chief executive of the right-wing lobby Heritage Action.
"That should be a non-starter," he said.
INVITATION: Commemoration of International Holocaust Remembrance Day on 30th January 2018

Dear Media colleagues,

Please carry a Photo ID with you to facilitate your entry into the UN Premises; and follow standard security procedures.
National Information Officer

United Nations Information Centre

for India and Bhutan

55, Lodi Estate, New Delhi 110003