LONDON: Polling is under way for Britain's snap general election which will shape the United Kingdom's future as it leaves the European Union.
Prime Minister Theresa May, who came into power without a national vote last year after David Cameron´s resignation following the Brexit vote, called for a three-year-early election for June 8, saying she needed to strengthen her hand in divorce talks with the European Union by bolstering support for her Brexit plan.
If May does not handsomely beat the 12-seat majority her predecessor Cameron won in 2015, her electoral gamble will have failed. When she called the election, polls showed she was as much as 23 percentage points ahead. However, the lead has shrunk substantially since then.
The polls are open from 7am (0600 GMT) until 10pm (2100 GMT) on June 8. There are about 47 million registered voters across the United Kingdom.
Security for the voting day was reviewed following the recent London attack, which left at least eight dead, with the city's Metropolitan Police force implementing a "specialist and highly flexible operation" which it said could be deployed as needed.
An exit poll will give an indication of the outcome, although final results will not emerge until early Friday.
May, Corbyn cast votes
Corbyn arrived at the Pakeman primary school in Holloway, North London, to cast his vote.
The politician appeared to be in an amiable mood as he smiled and waved to the media.
Speaking to the press, he said "Thank you very much, all of you, for coming here today. It's a day of our democracy. I've just voted. I'm very proud of our campaign. Thank you very much."
On the other hand, clad in white-and-black Theresa May also casted her vote at a polling station in Sonning, Berkshire.
According to media reports, she just greeted the media with a simple 'hello' unlike her opponent.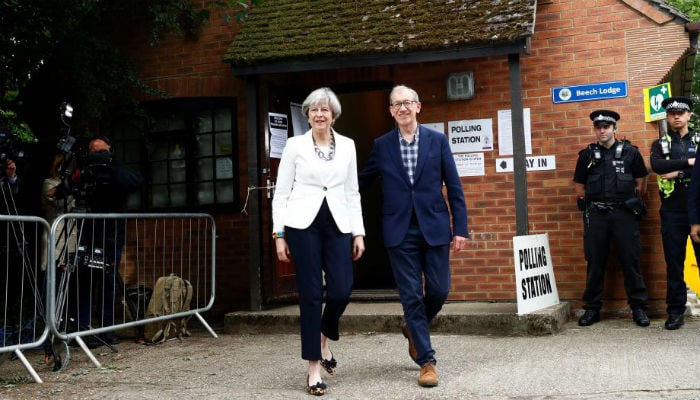 She was also holding a polling card in her hand even though voters didn't need to show up with one to vote.
The options
The main parties across the whole of Britain are the Conservatives (centre-right), led by May, and Labour (left), led by Jeremy Corbyn, followed by the Liberal Democrats (centre-left), the UK Independence Party (populist) and the Greens (left).
The Scottish Nationalists (left), Welsh nationalists Plaid Cymru (left) and four parties from Northern Ireland also won seats at the last general election in 2015.
Pakistani-British contesting polls
More than 40 men and women of Pakistani origin are taking part in the elections. Of these, around 31 are from the mainstream parties such as Labour, Conservatives, Liberal Democrats while the rest are from smaller parties or contesting as independents.
A research by Geo News correspondents showed that the Labour Party has given tickets to 13 British Pakistanis; Liberal Democrats to 11 candidates; six candidates for the Conservative; one from Scottish National Party (SNP); three for the United Kingdom Independence Party (UKIP) and one for the Green Party.
Labour has given tickets to the highest number of candidates with a high chance of winning on safe Labour strongholds or relatively safe seats.
´Little confidence´
It is the third time Britain has gone to the polls in two years, twice for a general election and once for the EU referendum, and voter fatigue appeared to be an issue among the early voters.
"I don´t think it has really been a campaign, we don´t know anything about what they are going to do about Brexit, it´s been pointless really," said Joe Kerney, 53, at a polling station in Hackney, east London.
"I have little confidence in anybody," added voter Simon Bolton, 41. "I think we lack quality in terms of who we can choose, it is very limited."
The election is May´s first since taking office after Britons voted by 52 percent to leave the European Union.
Predictions
Opinion polls reveal the outcome could be a lot tighter than had been predicted when May announced the vote on April 18.
Although surveys show the gap between the main two political parties narrowing, May´s position as prime minister seems secure.
Polls initially supported her gamble, giving her Conservative Party a double-digit lead over its nearest rival, the main opposition Labour Party.
However, the Conservatives´ advantage has eroded over the campaign, with pollster Survation giving the ruling party just a one point lead over Labour on June 4.
Another poll, released a few days earlier by YouGov, even suggested the Conservatives could fall short of a majority, meaning they would need the support of another party to govern.
Electoral process
There are 650 constituencies across the UK, meaning 326 MPs are needed for an absolute majority in parliament´s lower House of Commons.
Each constituency is won on a first-past-the-post basis, meaning the candidate with the most votes in that seat becomes its MP. Despite the focus on the party leaders, voters are not directly choosing their prime minister, only their local MP.
A parliament is elected for a maximum of five years, meaning the next general election must be held by June 2022 at the latest.
Edit