Distraught Nepalese guides and climbers cancelled expeditions on Mount Everest Monday after at least 13 colleagues died in an avalanche, as anger mounted at poor payments for sherpas who take huge risks on the world´s highest peak.
Sherpas already grief-stricken at the loss of colleagues have told they are considering whether to halt climbs to protest at pay and poor welfare provisions.The bodies of 13 local sherpa guides have been pulled from the snow and another three are thought to be still buried in the avalanche which hit Friday morning, the worst single accident in the mountain´s history. Another nine were rescued alive from the avalanche, which struck the group of sherpas as they hauled gear up the mountain for international climbers who were waiting at Everest base camp below.
Seattle-based Alpine Ascents International, which lost four sherpas in the accident with another still missing, has decided to cancel its expedition, according to its sirdar (sherpa captain)."We have lost five members of our team. To respect them, we will not be going ahead with our expedition," said Lakpa Rita Sherpa, who has summited Everest 17 times.
"This was one of the worst days on the mountain and all those who died are sherpas, so many of those left don´t want to go ahead," Sherpa told from base camp.
US-based Discovery Channel also cancelled an expedition after losing its team of sherpas in the accident, it said in a statement. The channel was planning a live broadcast of the first winged jumpsuit flight off the summit.
Other teams still at base camp are weighing up whether to go ahead with their expeditions, with many too distraught to climb. Ang Tshering Sherpa, president of the Nepal Mountaineering Association, said sherpas want the government to set up a welfare fund for guides and their families, using part of the fees paid by clients.
"It´s not about stopping expeditions, but they have demands that need to be fulfilled," Sherpa, whose national body represents tourism promoters told.
Some of the sherpas and their families are angry about the Nepali government´s offer of 40,000 rupees (about $400) to pay for the funeral expenses of those killed, calling it a disrespectful gesture.
Geo News senior anchor and renowned Pakistani journalist Hamid Mir has regained consciousness.
Mr. Mir is expected to be shifted to a private room at the hospital he is being treated at later today (Monday).
According to the medical report, Hamid Mir was shot six times. One bullet hit Mr. Mir in the ribs under the arm, one in the stomach, one grazed his hand while two pierced his thigh on the front and one on the back of the thigh which doctors have not been able to remove as it is lodged in the bone.
Doctors will take a decision regarding removing the lodged bullet after further examinations.
According to initial reports the renowned Pakistani journalist was shot thrice and underwent a successful operation at a private hospital.Hamid Mir was attacked in Karachi on Saturday evening while his car was leaving the airport. The Geo News senior anchor was shot multiple times and rushed to Aga Khan for treatment. He underwent a successful operation and is recovering.
The attack took place when a single gunman wearing shalwar kameez stopped Hamid Mir's car right outside the airport and opened fire. The driver of the car sped away but the gunman and his accomplices in two motorcycles and a car followed Hamid Mir and continued firing.
The attackers followed Hamid Mir's car till Karsaz and disbursed. While being chased Hamid Mir spoke to his colleagues over the phone and informed them of the attack. Media agencies

Robert Serry, the UN special envoy for Middle East peace, said he and Palestinian Christians were making their way to attend the 'Holy Fire' ceremony at the Church of the Holy Sepulcher, the site where Christians believe Jesus was crucified and buried before rising from the dead.
Inspite of free access order Israeli police refused to let the group of worshipers pass, saying they had orders to that effect.
Serry said he, along with Italian, Norwegian and Dutch diplomats, was forced to wait for up to 30 minutes, crushed by the excited crowd against a barricade, while Israeli officers ignored his request to speak with a superior, according to Reuters.
"A precarious standoff ensued ending in an angry crowd pushing their way through," Serry said, lashing out at "unacceptable behavior from the Israeli security authorities."
"It became really dangerous because there was a big crowd and I was pushed against a metal fence the police put up there, the crowd tried to push really hard," the diplomat said, adding they might have been trampled had police not finally let them pass.
Serry in a statement called on "all parties to respect the right of religious freedom, granting access to holy sites for worshipers of all faiths and refraining from provocations, not least during religious holidays."
The incident comes as the Holy City, which is of religious importance to Christians, Jews and Muslims alike, prepares Pope Francis's Holy Land visit next month.
Israel dismissed the UN diplomat's complaint, calling it an attempt to exaggerate a "micro-incident"while crediting police with maintaining order as crowds of worshipers descended on the city.
Later on Saturday, Israel's Foreign Affairs Ministry dismissed Serry's account as "an odd communique on a non-event."
"Christian dignitaries of the highest level have this evening thanked the Jerusalem Police Department for its efficient service, which has enabled the Holy Day's celebrations to take place without any hindrance,"the ministry said.
"Had any harm come to the pilgrims due to uncontrolled crowd movements, Mr. Serry would have been prompt to cast responsibility on the same police which he now condemns for doing its job properly," the Israeli statement added.
Pope Francis is scheduled to visit Jerusalem in May, an event that may be overshadowed by a breakdown in US-brokered peace talks between Israeli and Palestinians, who face an April-29 deadline to resolve their differences. media agencies News
Nehru Memorial Museum and Library
cordially invites you to a

Public Lecture
(in the 'India in Transition' series)
at 3.00 pm on Wednesday, 23
rd
April, 2014
in the Seminar Room, First Floor, Library Building
on
'Scenarios of Kannada Activism in Bengaluru'
by
Prof. Chandan Gowda,
Bengaluru.
Abstract:
Bengaluru has seen a proliferation of pro-Kannada organizations since the early years of this century. The perceived decline in significance of Kannada and its speakers in the state's capital appears a paramount concern for them. Many of these groups have found support from major institutional forces, including political parties, the local film industry, and the heads of Hindu religious establishments. How do they conceive the Kannada cause and the strategies necessary for securing it? What are the continuities and discontinuities between their activist concerns and those of their predecessor outfits? Mapping the shifting contours of Bengaluru-centred Kannada activism over the last few decades helps grasp the changing political and cultural milieu in the city.
Speaker:
Prof.

Chandan Gowda is Professor of Social Science at Azim Premji University, Bengaluru. His research interests include social theory, Indian normative traditions, and Kannada literature and cinema. In addition to his academic publications, he has written extensively for newspapers and published translations of Kannada fiction and non-fiction in English. He completed his dissertation research at the Department of Sociology, University of Michigan, Ann Arbor in 2007. He is presently completing a book on the cultural politics of development in old Mysore state.

INDIA SPORTS 2014
Major Dhyan Chand National Stadium, New Delhi
We are pleased to inform you that the Ministry of Youth Affairs & Sports along with FICCI would be organizing the first edition of

INDIA SPORTS from 6-8 Nov, 2014

at Major Dhyan Chand National Stadium, New Delhi. India Sports 2014 would be organized as a Sports Festival in New Delhi and will have the following activities under the India Sports 2014 banner:
1.
INDIA SPORTS EXPO 2014:
An International exhibition on Sports goods, Fitness equipment's, Sports apparels & Shoes etc
2.
INDIA SPORTS TURF:
An International Conference on the Sports sector
3.
BUYER SELLER MEET:
Organized by Sports Goods Export Promotion Council, Ministry of Commerce.
4.
INDIA SPORTS CUP 2014:
A Sports Tournament to be organized
5.
INDIA SPORTS Fashion Show:
A Fashion Show to be organized for the Sports Apparel. To be organized either at exhibition venue or at the Networking Dinner in the evening for exhibitors, buyers.
6.
Product Launch Forum-
Exhibitors can Launch their products at the Product Launch Forum at the exhibition
The event is shaping up really well with respect to keen interest shown by the Indian and International Sports equipment manufacturers. We are hopeful that the event
would create a benchmark and would be established as an event of world class level. India Sports 2014 would be one of its kind event in India which would not only help in uplifting the Indian Sports goods manufacturers who can showcase their products to the Indian & International Buyers but also would be a platform where the Sportsperson will get to see the best Sports & Fitness equipment's & apparel, best International practices, with which the level of performance can be enhanced.
We look forward to your participation at this mega event and block the prime exhibition spaces available at the earliest.
Ravi Verma
| Research Associate
Industry's Voice for Policy Change
Federation House, Tansen Marg, New Delhi – 110 001
M: +91-9873522631| F: +91-11-23487462 | F: +91-11-23487226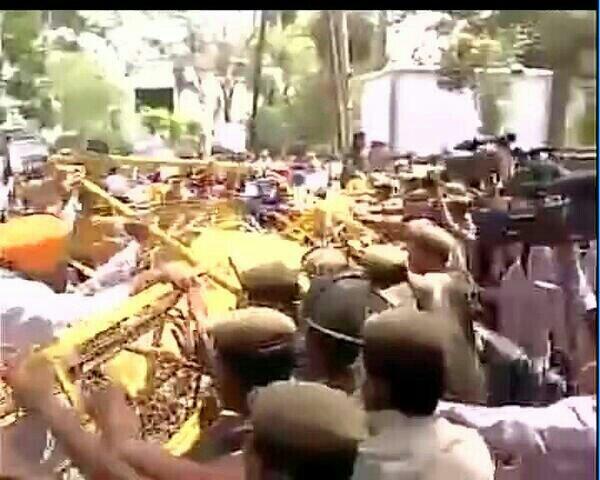 Akali Dal today launch a massive protest outside Congress headquarters in Delhi, on Captain Amrinder Singh during an interview on NDTV to Gr Editor Barakha Dutt gave clean chit to Jagdish Tytler, Akali Dal the Sikh Groups thus fume over Captain Amarinder's clean chit to Jagdish Tytler is raising slogans against the Congress leaders for 1984 riots:
Captain Amrinder Singh
Congress candidate from Amritsar had on Saturday said in a TV interview that the riot victims in Delhi had initially not accused Tytler of leading the mobs that went on a rampage in 1984. He had come under attack from the leaders of BJP and SAD, including Punjab Chief Minister Parkash Singh Badal.
It was followed by the issuance a separate statement by Amarinder, criticising Badal for "misinterpreting" his statement about Tytler. "I have neither given any clean chit to anyone nor do I like to blame someone just because Badal blames him," he said.
Amarinder, who is contesting against senior BJP leader Arun Jaitley, said in the statement that no court has held Tytler guilty so far. Reports claimed that police had to use water canons to disperse the agitating Akali protesters as they tried to break the barricades placed outside the head quarters.Media agencies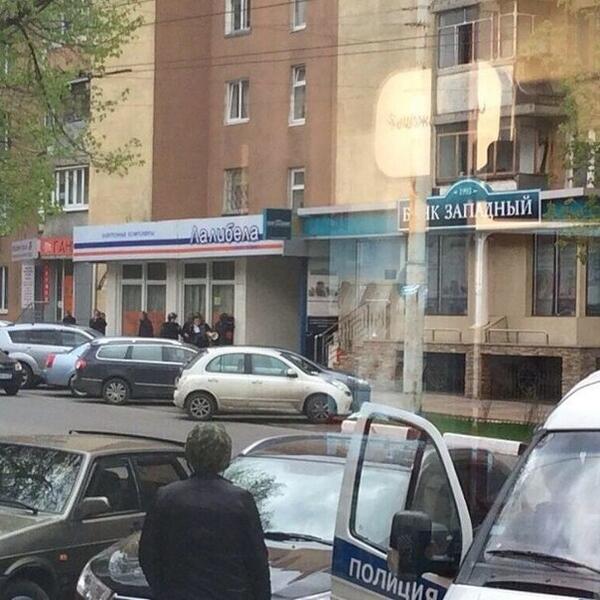 HOSTAGE SCENE outside of 'Zapadny bank' Belgorod
Three assailants, including one gunman, reportedly took four hostages at a Russian bank in the city of Belgorod.
The situation is developing at a branch of the Zapadny bank in Belgorod, a city in western Russia in a region bordering Ukraine.
"According to preliminary information, there are three captors and four hostages," a source in the law enforcement told RIA Novosti.
The assailants are demanding 25 million rubles ransom ($700,000) the source added. Negotiations are underway.
In a contradicting report, Interfax cites a police source as saying that there is only one hostage taker armed with a Saiga carbine.RT News