U.S. regulators tighten the leash on Chinese technology companies, citing concerns over security. New rules proposed on Tuesday would bar U.S. telecommunications companies that receive Federal Communications Commission subsidies from procuring products from foreign companies with security concerns. Targets have yet to be named, but a senior FCC official said Huawei and ZTE are expected to make the list.
The announcement followed Monday's announcement by the Department of Commerce that it would in effect ban American technology exports to ZTE for seven years.
ZTE on Wednesday postponed the release of quarterly earnings, saying it needs time to assess the impact of the U.S. moves. Huawei and ZTE are headquartered in the southern city of Shenzhen, the "Silicon Valley" of China. The two Chinese industry leaders have been expanding their presence around the world — another reason for the latest moves by U.S. authorities, who also fear American businesses being overtaken by China in the tech race.
ZTE agreed last year with the Commerce Department on $1.19 billion in penalties for illegally exporting communications equipment to Iran and North Korea from the U.S. between 2010 and 2016. This week's announcement arose from the revelation that ZTE had made false statements on multiple occasions to U.S. authorities after the agreement.
asia.nikkei.com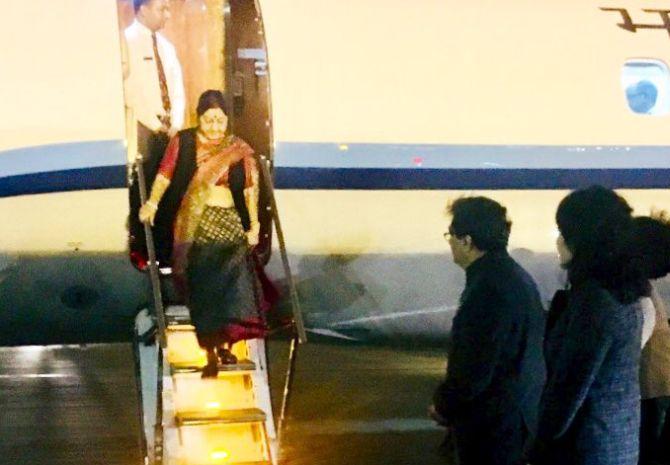 External Affairs Minister Sushma Swaraj arrived in Beijing on Saturday on a four-day visit.
she will hold talks with her Chinese counterpart Wang Yi and take part in the foreign ministers' meeting of the Shanghai Cooperation Organisation.
Swaraj is due to meet Wang on Sunday.
Wang is elevated as state councillor last month which makes him the top diplomat of the country in the Chinese hierarchy. He also continues to be foreign minister.
media agencies
Keeping alive the magic of Kathak
Dhriti Nritya Academy, a Delhi based organization is on a mission to keep the India's oldest dance forms alive. The academy in its flagship event UDYAM tries to take Kathak to a larger audience with a mission to involve more and more people with the beautiful art form which is Kathak. In an event held yesterday at CSOI, with the theme of showing different shades of Kathak, Acclaimed dancer and Kathak exponent Smt. Vaswati Misra graced the occasion and appreciated the efforts being made by the founder of the organization Smt. Smiti Negi. Vaswati ji said " Smiti is not only my talented student but also like a daughter to me"
She also added that " I am so glad that she swam against the tide and left her successful corporate career and have come back to world of dance, which in itself is so fulfilling"
Also, present at the event was eminent tabla maestro Debashish Adhikari who praised the efforts laid by the young and energetic girls of the Academy. He said "I have travelled across world and I can proudly say, Smiti Ji is one of the very few who has wholeheartedly dedicated to teaching Kathak with lot of pride and passion. I always look forward seeing Dhritian's dance as they carry lot of energy and pride " .
Thirty Dhritians presented various compositions of Kathak and won everyone's heart. Living upto this year's theme ie, Shades of kathak, students showcased the vertical, horizontal and spherical growth.
Starting from basics of Kathak to the various displays of Teen Taal, Jhaptaal, Chakkars, Thumri and Tarana.
As Smt Smiti mentioned "Kathak means display of a story or Katha. Definition itself makes it a liberating dance form which does not restrict the dancer to display any story, emotion or format. My Dhritians can do anything with Kathak". True to her words, her disciples mesmerized the Audience when they did Kathak with Basketball and martial arts in a blend of Western and Arabic music with various Kathak tukde.
DNA this year also awarded "Inspirational Youth Award" to Mr. Akash Yadav, an Animal Philanthropist for his exceptional work in protection of endangered Indigenous Indian cow breed of Sailwal. Mr. Akash emphasized on Parent's and family support required when their Child finds his calling in non-conventional field. He was also in awe with the show, He said " What a Show! I never knew Kathak can be so enthralling. I know how much dedication and hardwork is required to chase a dream in non-conventional field and I am so honored to be recognized today and would like to Thank Smiti mam and Capt. Rahul sir for recognizing my work".
Capt. Rahul Negi, Husband of Smt. Smiti and Co- founder of DNA said " Over the years while running academy, we realized apart from giving quality Kathak education, it is not only important but our moral duty of ours to set right inspiration of next generation and as a little effort this year, we identified a youth inspiration for our Dhritians."
Marquee event of Udyam was "Spirit of Dhriti" where Kathak was done in Shadow dance format with fog effect took the audience to dreamy sequence. "Once more" chant from audience was in itself the biggest compliment to performers.
Show ended with celebration of Springs in
Basantotsav,
which is also a celebration of joy of human emotion symbiotic to nature.
ReNew Power PPA Rs.5.45/U, Present Bids Rs.1 to Rs.2.80
While there are raids on so many Renewable Energy project promoters on trivial grounds – Kochhars & Shrivastavas, there is undue favors to Sumant Sinha promoted ReNew Power.
Scores of high value PPAs have been cancelled all over India but
ReNew Power
swiftly managed even
Supreme Court Endorsement
for PPA @
Rs.5.45 Per unit for 25 years
and ReNew Power shall pocket
Rs.1025 Cr in 25 years
whereas recent bids for
Rs.2.80 Per Unit
which shall be paid –
Rs.525 Cr
for identical configuration.
International Solar Power bids are as low as Rs.1 Per unit – Saudi Arabia for example range from Rs.1 Per Unit to Rs.1.50 Per unit.
Similar Matters in the past had been referred to
'Appellant Tribunal for Electricity'.
Since Solar Panels account for 80% of Cost – they are deployed just 2-3 months before Commission like Fans & AC or Geysers in a new building – in public interest Supreme Court should have directed revision of PPA to match Solar Bid Prices in Sep2017.
Supreme Court judgment admits there were over 100 Bids but only one ReNew Power who had no land and couldn't commission the 51 MW Solar project in stipulated time. Either –
Ø
Supreme Court should have Ordered ReNew Power to accept prevailing much lower Unit Rates or
Ø
Let other 100 Bidders to MODIFY THEIR BIDS for 300 MW Program and get similar state support.
But my concern is that
'Real Cost of ReNew Power to consumers could be Rs.10 to Rs.20 Per unit to Urban-Rural Consumers.'
Obviously in view of high Technical Losses in HT to EHT to HT and to Distribution Feeders High Cost SolarPV ought to have been located at or close to Consumption Area or Rooftops.
Ravinder Singh,
Inventor & Consultant,
INNOVATIVE TECHNOLOGIES AND PROJECTS
Y-77, Hauz Khas, ND -110016, India. Ph: 091-

8826415770

, 9871056471, 9650421857
Ravinder Singh* is a WIPO awarded inventor specializing in Power, Transportation,
Smart Cities, Water, Energy Saving, Agriculture, Manufacturing, Technologies and Projects
Bollywood actress Nushrat Bharucha Graced the Ramp for Designer Kavita Aggarwal
The beautiful actress of B'town industry Nushrat Bharucha sizzled the ramp for designer Kavita Aggarwal and look beautiful in designer's outfit for the 10th season of India Runway Fashion Week held in DLF place Saket, New Delhi.
Kavita Aggarwal's collection was Ode to Pietra Dura an ancient decorative art form, often referred to as 'paintings in stone', Pietra Dura was once fostered by kingdoms as far apart in time and location as Romans and Moghuls. Her bridal collection is a tribute to Pietra Dura's vivacity and a captivating look into the new application for this age-old art form.
The embroidery in her ensembles is a replication of Pietra Dura motifs – not so much in technique as in aesthetics. As crossover fashion doesn't merely adorn a wearer, it transforms her, she dedicates this Indo-western fusion to the modern Indian woman, who is rooted in traditions, yet open to fresh explorations.
Media briefing at Rakabgunj Gurudwaras, the Speakers after speaker spoke of serene and discipline in Gurudwaras. Those identified for indulging in gender teasing and gross misbehaviour are being ultimately given management patronage which is chief cause of indicipline and moral turpitude surge.
Sikh Gurudwara women Wing called press conference to voice threatening of growing indicipline in Sikh Sabha of Gurudwaras Rakabgung of national importance. Discipline committeee and other office bearers failed to quell the miscreants attitude towards girls, women and ladies.
CPR-CSH Workshop on 'Local Conflicts and Illegalisms in the Production of a Space of Memory in Rio de Janeiro, Brazil'
Conference Hall, Centre for Policy Research
This talk is about the various social and legal strategies adopted by different actors in the context of urban restructuring in the Port zone of Rio de Janeiro, with focus on the particular case of landmarking Pedra do Sal, an Afro Brazilian historical and religious monument located in this zone. By narrating the different strategies used in this complex set of conflicts around social recognition, demarcation of a place of memory and heritage making, I will try to situate these in the socio-political processes accompanying the ongoing urban reforms,
Porto Maravilha
(Operação Urbana em Consórcio, municipal law 102/2009)
, launched in 2009 with the aim to promote local restructuring, by extending, forming and re-qualifying the region (
Concessionaria Porto Novo
).
I will discern such strategies through the claims of inhabitants who have faced the consequences of historical injustice as well as the current urban reforms. Through their voices, and based on a series of interviews conducted with several stakeholders, from local shopkeepers and activists to members of drug dealers' movements, I will show in which ways informal power games, social pressure and intimidations permeate the harbor district as it undergoes profound structural changes, and operate decision making processes, influence speculation and promote economic benefits through producing and marketing heritage.
Nicolas Bautès
is working in the field of urban studies, social and political geography. His main domains of interest are: the local fabric of urban politics, conflicts, illegalisms and informal politics, social movements and activism; the politics and contestations of heritage.
On leave from his permanent position of senior lecturer at the University of Caen-Normandy (France), he is currently Research Fellow at the Department of Social Sciences of the French Institute of Pondicherry (UMIFRE 021 CNRS), where he recently started a research project on the "political economy of cultural production in South India", starting to focus on the "forgotten creative industries" and the politics of heritage in Pondicherry and surroundings in the context of the recently launched Smart City scheme.
This workshop is free and there is no registration required. Find all the available videos of our previous workshops,
here
.
CPR is pleased to invite you to a public talk on
Re(b)ordering the World: Visual Politics of the (New) Silk Road
Prof Marina Kaneti, Phd, Fellow, China India Scholar-Leaders Initiative, India China Institute, The New School, New York
Wednesday, 25 April 2018, 11:00 a.m. to 1:00 p.m.
Conference Hall, Centre for Policy Research
At a time of "thickening" of borders across the West, is there an "opening" of borderlands and territories in the East? In replicating the land and maritime connections of the ancient Silk Road, is the Belt Road Initiative (一带一路) bound to reshape our understanding of territory, space, and mobility?
In this talk, Prof Kaneti shares her preliminary research on the ways in which the symbolic use of images of the Silk Road serve a dual purpose: to generate a vision for global interconnectivity and affirm the legitimacy of the Belt Road Initiative (BRI). Using an interpretative analysis of maps, public slogans, and museum exhibits, the speaker argues that visual representations of the (new) Silk Road redefine understandings of modernity and prosperity, center and periphery, inclusion and exclusion.
Professor Kaneti's main specialisation is in global politics and political theory, with a thematic focus on migration, state policies and economic development. She received her PhD from the New School for Social Research, USA in 2016; and was the recipient of the 2016 Hannah Arendt Dissertation Award. She also holds an MPhil in political theory from the New School, as well as MS in Social Enterprise Administration and BA in East Asian Studies from Columbia University. Marina recently accepted a tenure track Assistant Professor in Global Studies position at the Grand Valley State University in West Michigan. She's also China India Scholar-Leaders Fellow at the India China Institute, The New School, New York.
Her current research studies the intersection between trade agreements, migrants' networks, and urbanisation dynamics in the context of the Chinese New Silk Road, also known as the Belt-Road initiative. She will be spending the summer researching the "Belt" part of the Silk Road. Her most recent publications include "(Re)branding the state: border control and the moral imperative of state sovereignty", co-authored with Mariana Assis in Social Research (2016) and "Mêtis, Migrants, and the Autonomy of Migration" in Citizenship Studies (2015).